1717 N 73rd Street Wauwatosa, Wisconsin 53213 (414) 475-0105
Our Sunday service begins at 10:00am CST
---
Covid-19 Update
UCIM will be updating per the CDC and WI Council of Churches recommendations, with updates weekly.
Currently Masks are requited for
attending
service in person.
---
Covid-19 Guidelines for Unity Center
It's evident that Covid-19 will be with us long term. It is a loving act to do all we can to keep our most vulnerable safe.  We've put together guidance for our members/guests based on the CDC and Wisconsin Council of Churches recommendations.
We will be posting the current risk level on the front and parking lot doors for each of us to check as we enter the building.  The mitigation recommendation for the current level will be posted as well.  Watch for these postings on the doors.
Unity values all our members and visitors.  We recommend that those who are at greater health risk or are protecting loved ones at risk wear a mask.  Unity values your health.  Your choice is affirmed by our community.
Further there will be a designated 'covid-19 safe' area within the sanctuary.  This area will be reserved for masked only people.  The area creates a zone to respect the needs of the most vulnerable among us making it possible for safe in person attendance.  We ask that those who chose not to mask choose another area during service.
---
Watch live online at the following links
HERE on the Unity Center in Milwaukee Website
also on our Facebook page 
We also upload the service on our YouTube channel
---
---
August Power: Will
Affirmation: I choose my good based on spiritual understanding. 
I am willing, open and receptive to living a life of Truth.  I consciously choose what will support my greatest good.  Anchored in the Absolute I choose Joy, Love, Creativity, Peace, and Beauty before all else.
The corresponding color is silver, and the location is the center of the brain.
---
This Sunday At Unity!

Eileen Carlson is this week's guest speaker.
Eileen will be discussing  TRUST: "I release myself to Divine Order in my life and trust the Spirit Within.'  Where is your trust?
Connect with your spiritual community at 10am this Sunday in person at the center, or LIVE on Facebook at Unity Center in Milwaukee or on our website unitycenterinmilwaukee.com
After our service, you can view it on our   Youtube Page.
---

Susan Larkin will be this Sunday's musical guest!
Susan  brings warmth and light in her musical stylings.
---
---

Kevin Reger, and the Board of Trustees, invites everyone to continue to support our Center and to come and learn from our exciting rotation of guest ministers as we begin our search for a permanent minister.
---
UPCOMMING GUEST SPEAKERS AND MUSICIANS 
Guest Speaker                                                     Musical Guest
---
8/21-  Joann Bauman                                                                           Kevin Reger
8/28 Eva Overholt                                                          Julie Thompson & Doug Esty 
---
Sunday Service volunteers needed!
We are a community of seekers here at Unity Center, and we want to reflect that during our Sunday services! We are looking for help from you to hold our Sunday services.
When we have guest ministers, we would like someone like you to preside over the rest of the service. To lead us all in the opening affirmations, the prayer blessings,
the offering and the announcements.
Some of you might not feel qualified, but you would be wrong.
Don't be afraid to grow a little!
We can also use Sunday greeters and kitchen helpers.
Perhaps that is a first step for you.
If you are willing to help once a month, please reach out to Beth Hancock, our Volunteer Coordinator. She can get you started! Please email Beth at subehala@yahoo.com with your interests.
Thanks in advance for your help!
---

Join the Unity Virtual Bulletin Board! Are you seeking employees? Maybe you have an apartment vacancy that needs to be leased? Perhaps, you're seeking to to grow awareness of a service you can offer to others in your community? The launch of our Virtual Bulletin Board is a great way for Unity Members to post advertisements and services needed / provided. Bulletin Board rules and guideline can be found at the link below.
---

The Labyrinth is up in the  classroom across from the kitchen.  You can  walk it before/after Sunday service, or come in during the week when the office is open.  Please call the office to make sure some one is available the whole time you are on the labyrinth.  It is a great source of calming energy, and clarity.  Instructions are available in the large classroom.

---

LIFE JOURNEY GROUP, a discussion and personal spiritual growth group, will begin on second and fourth Mondays.
---
The Minister's Book Study class 9:30-11:00 am
The Book of Hope by Jane Goodall, and Douglas Abrams
A Survival Guide for Trying times

In a world that seems so troubled, how do we hold on to hope?
Looking at the headlines-the worsening climate crisis, a global pandemic, loss of biodiversity, political upheaval-it can be hard to feel optimistic. And yet hope has never been more desperately needed.
In this urgent book, Jane Goodall, the worlds most famous living naturalist, and Douglas Abrams, the internationally bestselling co-author of The Book of Joy, explore through intimate and thought-provoking dialogue one of the most sought after and least understood elements of human nature: hope. In The Book of Hope, Jane focuses on her Four Reasons for Hope: The Amazing Human Intellect, The Resilience of Nature, The Power of Young People, and The Indomitable Human Spirit.
Drawing on decades of work that has helped expand our understanding of what it means to be human and what we all need to do to help build a better world, The Book of Hope touches on vital questions, including: How do we stay hopeful when everything seems hopeless? How do we cultivate hope in our children? What is the relationship between hope and action? Filled with moving and inspirational stories and photographs from Janes remarkable career, The Book of Hope is a deeply personal conversation with one of the most beloved figures in the world today.
While discussing the experiences that shaped her discoveries and beliefs, Jane tells the story of how she became a messenger of hope, from living through World War II to her years in Gombe to realizing she had to leave the forest to travel the world in her role as an advocate for environmental justice. And for the first time, she shares her profound revelations about her next, and perhaps final, adventure.
The second book in the Global Icons Series-which launched with the instant classic The Book of Joy with His Holiness the Dalai Lama and Archbishop Desmond Tutu- The Book of Hope is a rare and intimate look not only at the nature of hope but also into the heart and mind of a woman who revolutionized how we view the world around us and has spent a lifetime fighting for our future.
There is still hope, and this book will help guide us to it.
---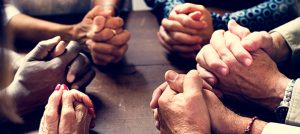 SILENT UNITY PRAYER CIRCLE meets every Thursday via Zoom and in-person, following the book study, at 11:00 a.m. All are welcome.
If you are unable to join, but would like prayer support, please call the office at (414)475-0105.
---
Check out  our Mid-Week Meditation. It is available on our Facebook page, and also on our website under classes then meditation. Different leaders will lead our meditation each week. Take time for YOU!
---
A COURSE IN MIRACLES is back! It meets every Sunday following fellowship in the Wedding Suite/classroom at 12 noon. This group, facilitated by Joann Baumann, offers discussion and support on the channeled work with messages and tools for a more balanced and harmonious life. A Love offering is accepted.
---

Wisconsin Autism Empowerment Group Game Nights
to find status of in-person meetings this month.
---