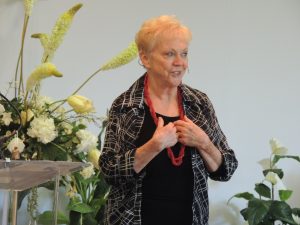 Hello! My name is Rev. Mari Gabrielson. I began my position as Minister at Unity in Milwaukee on January 15, 2014.
My husband Mark and I moved from our lake home in northwest Minnesota to this warmer climate in Wauwatosa and are loving it here.
I have been involved in Unity ministry since 1980, when I helped to found the Unity Church in Carlsbad, California. I was an adjunct faculty member at Unity School of Christianity, teaching many of the required Unity courses for continuing education students. Most of my ministerial career has been in Honolulu, Hawaii, where we lived for more than 26 years.
The ministry at Unity in Milwaukee is growing in numbers and in spiritual maturity. I am delighted to bring my love of teaching, speaking and counseling to Unity in Milwaukee.
I share the vision of a thriving ministry for all ages, including with an active children's and teen ministry.
On Wednesdays, we have classes, typically around a specific book. Throughout the year other activities such as concerts, workshops, a wellness and nutrition fair, book fair, community share and other things already have happened in the past year and are likely to be repeated in the coming years, so watch our calendar for updates.
You are welcome to give me a call and schedule an appointment if you would like to know about me or what our center has to offer, or stop by on a Sunday for 10 a.m. service which is followed by fellowship and treats.
One with you in Unity,
Rev. Mari Gabrielson